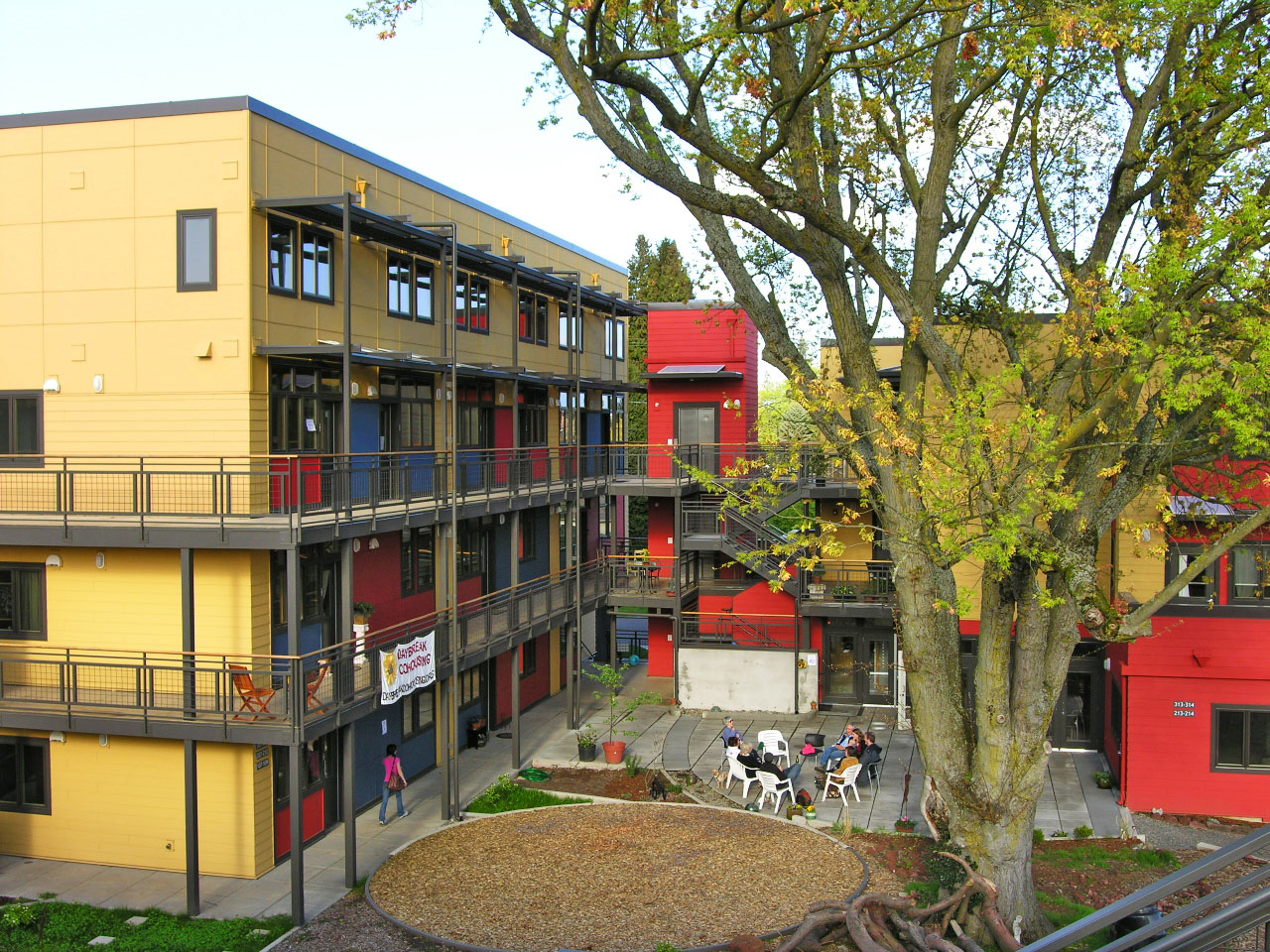 Urban shared living communities are a very fascinating idea to me; the modern "commune" (now being referred to as "co-housing")is far from our typical hippy era picture we usually hear about. Today's living communities focus on the idea supporting one another, and doing the most with the least, rather than being "lead" by a single person, these new communities focus on group decision making and putting the good and needs of the group ahead of the wants of the individual, while still respecting the individual dignity and privacy. I came across a fascinating article about some communities here in the Pacific Northwest and elsewhere (I strongly recommend reading the article).  I also know of some friends from our Seattle days who live in a small Christian shared living home with two other families.  When Alexis and I were interns, we had our own mini version of this, with a men's house and a women's house across the street from each other, we shared meals together, and did chores together – being mostly young, raised middle-class, and suburban dwelling people – it was rather dramatic, yet we bonded in ways only possible from co-housing.
These communities are not "hostel" style, each family has their own living space with bedrooms, bathrooms, living room, and possibly a kitchen as well, and circumstances differ from community to community. Most communities make a point to share a meal or two each week, split up the community maintenance, and help one another out. What I found the most intriguing is that 40% of people living in these kinds of communities said they regularly gave financial support to their neighbors when in need far more than when they lived in our traditional self-contained fashion. Of course living in close proximity with others has its ups and downs; however I believe the benefits far outweigh the shortcomings.
These new communities are not removed from society, rather they are integrated into the fabric of the urban life, in the midst of our dense city neighborhoods where people can easily get to work, grocery shop, and interact with humanity. This sounds a lot like "the good old days" where people valued other people, and more than that, it sounds quite close to something we can read in Acts 2:42-47. This is an idea I can get behind, intentionally living together, sharing resources, taking care of one another, and letting iron sharpen iron.
Maybe someday we'll be able to buy an apartment building and turn it into one of these living communities, and not just open to other Christians, but rather a mix, and have it be an opportunity to be a light house to others and our community. The idea is huge, but I'm ok with those now, since our call to Poland will no doubt reflect many of these values, maybe we'll start something in Kraków along these lines?  I know plenty of young adults and families who would probably jump into an idea like this fairly easily – a built in support network, yes, make it so.